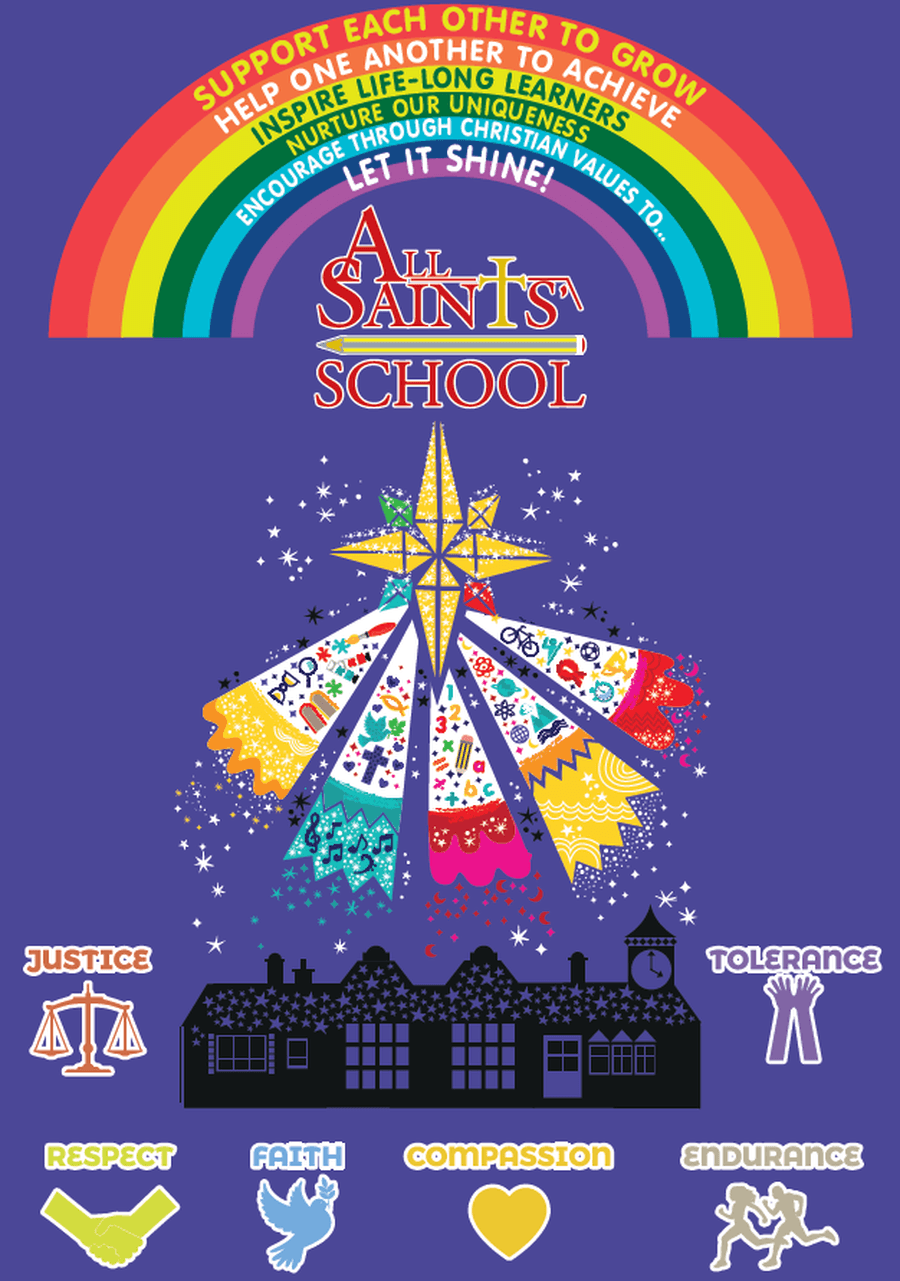 "You are the light of the world. A city set on a hill cannot be hidden. Nor do people light a lamp and put it under a basket, but on a stand, and it gives light to all in the house. In the same way, let your light shine before others, so that they may see your good works and give glory to your Father who is in heaven."
Who are we?
All Saints' CE (VA) Junior and Infant School is a Church School for pupils between the ages of 4 and 11 years.
It is one part of a community of communities – being a member of the family of the Diocese of Leeds whilst at the same time serving the local parishes of Salterhebble, Copley and Skircoat Green in Halifax. Please click HERE to view the website of All Saints' Church.
Our Vision
Our Vision is at the heart of everything we do:
S

upport each other to grow
H

elp one another to achieve
I

nspire life-long learners
N

urture our uniqueness
E

ncourage through Christian Values to ... Let it Shine!
Let's make a difference!
Please click HERE to download our Vision statement
Our Core Values
Justice
Psalm 106:3 'Blessed are those who act justly, who always do what is right.'
Respect
Romans 12:10 'Be devoted to one another in love. Honour one another above yourselves.'
Faith
1 Corinthians 16:13 'Be on your guard; stand firm in the faith; be courageous; be strong.'
Compassion
Ephesians 4:32 'Be kind and compassionate to one another, forgiving each other, just as in Christ God forgave you.'
Endurance
Philippians 4:13 'I can do all this through him who gives me strength.'
Tolerance
Matthew 7:1 'Judge not, that you be not judged.'
Each half term, the children explore one of the school's Core Values (as agreed by all stakeholders) through the Curriculum, Collective Worship and Reflection Time. They use the school's reflection areas to allow time for personal reflection, spiritual development and prayer.
We are an inclusive school.
Here are our equality objectives:
To promote spiritual, moral, social, and cultural development through all appropriate curricular and extra-curricular opportunities by explicitly showing all about how they can make a difference, with particular reference to issues of equality and diversity.

To reduce prejudice and increase understanding of equality through direct teaching across the curriculum.

To move beyond deterministic notions of fixed ability and to model teaching and learning behaviours that give all the opportunity to shine.

To promote cultural development and understanding through a rich range of experience, both in school and beyond the school.

Actively address the representation of different minority ethnic groups within our school team during recruitment.

Train all members of staff and governors involved in recruitment and selection on equal opportunities and non-discrimination.

To eradicate prejudice related bullying in relation to the protected characteristics listed in the Equality Act 2010.

To tackle prejudice, promote understanding, make reasonable adjustments and make sure any disadvantages in relation to people with disabilities are addressed.
You can view our Equality Policy and Action Plan in the 'School Policies' section of this website.