Our Core Value this half-term is
Endurance
Philippians 4:13 'I can do all this through him who gives me strength.'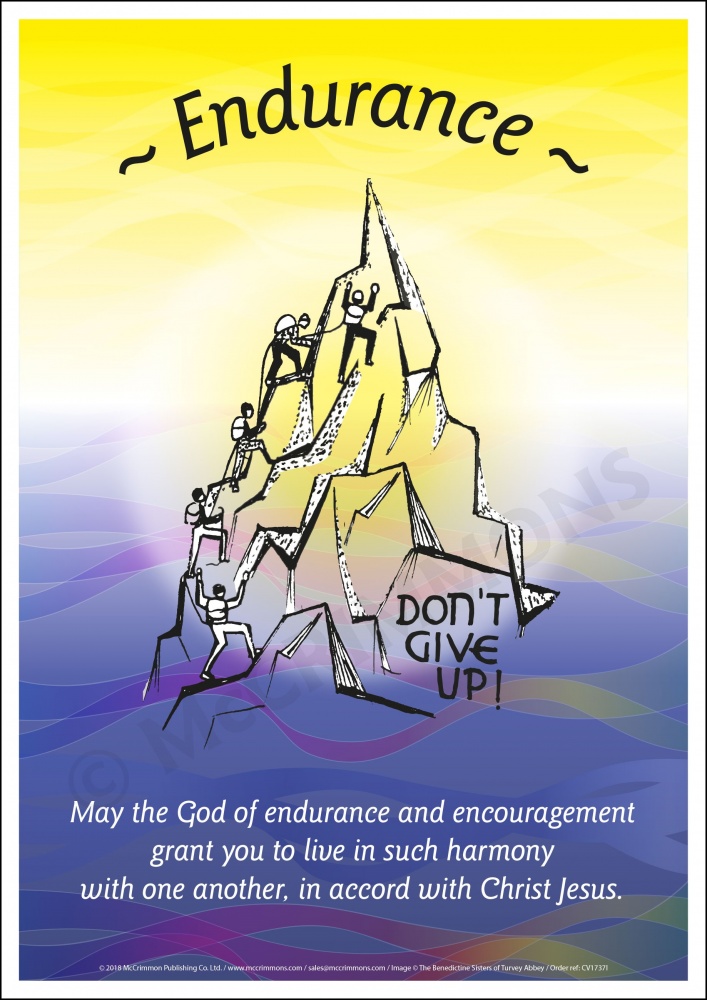 Courageous Advocates - Year 3
This half term, Year 3 ran a coffee morning for their adults to raise money for their courageous advocate charity 'SmartMove'.
Jo and Paula, who work for SmartMove, came along, and saw all the fantastic fundraising that had been taking place. They were blown away!
Year 3's fundraising total has now come to... drum roll please.... £600!
"As part of their topic of Rivers, Year Six created and published a poem about water, in English. The book they created is proudly displayed in their classroom for everyone to read and share their poems."
Year Two had the opportunity to work with Mr Winston, a local poet. As our focus in English is the Great Fire of London, we decided to create our own sound poems! We then performed using different sounds from the event and different levels of volume to build up to the blaze. We also used our knowledge of adjectives to create a class poem based on the sun.
Year 3 held their second 'courageous advocate' fundraising event for SmartMove. They ran a used toy and book sale and raised over £160! Bringing their overall total to over £300!
Year 4 created an Egyptian museum during our open classroom event for parents. Their learning has been based around the key questions, how does being near a river help civilisations develop and also the debate statement, modern Egypt is different from ancient Egypt. Children also challenged themselves to learn more at home and made some really creative artefacts.
Chinese New Year
Reception enjoyed a fabulous Chinese New Year workshop with Fiona from Bankfield Museum. We learned the story of the 'Great Race' where each of the 12 animals were given a year in order of where they came in the race. We found out about how the dragon dance is used to scare away any bad spirits for the new year ahead and we even created some of our own! We also learned a new song that originates in China and performed it as a group.
Year 1 had a fantastic trip to Ponderosa Zoo. The children had a wonderful day learning all about a range of animals in their habitats, to support their learning in Science.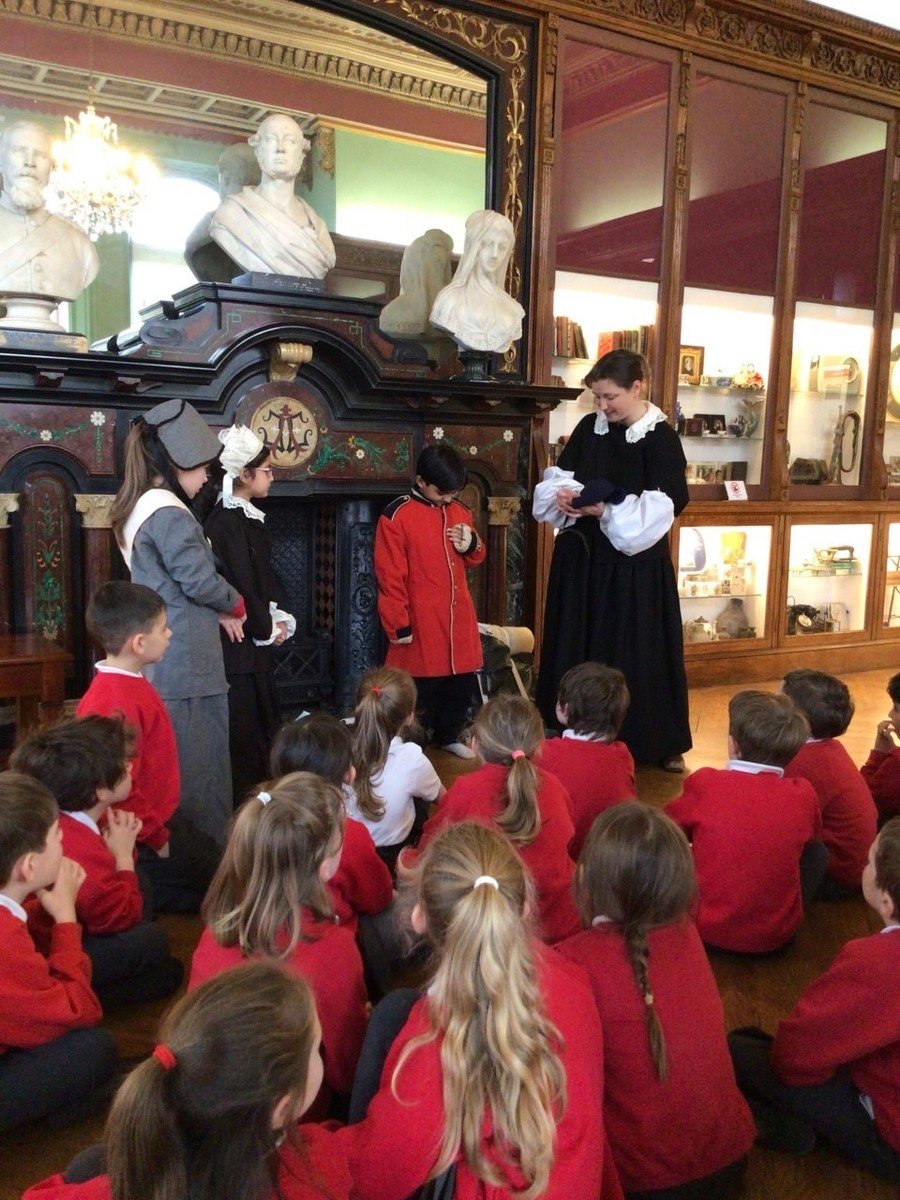 Year 2 went on a trip to Bankfield Museum
We have been learning about nurturing nurses and were interested to find out more information about Florence Nightingale, Mary Seacole and Edith Cavell, and their impact on nursing as we know it today! We explored a special room at the museum linked to local history before Florence Nightingale arrived to tell them all about her life and experiences in Crimea at Scutari Hospital. We already knew lots of facts about the conditions at the hospital and were able to tell Florence the facts that we had learnt at school. One of our favourite parts of the trip was hearing about and seeing the clothes and other items that were used in the 1800s. Some children got to wear some special clothes and we all got to look at some interesting artefacts!
We love reading at All Saints'!
As part of our appreciation, for children who go the extra mile with their reading, a group of our Year 3 children visited the Thoughtful Spot book shop on Saturday, to meet Rob Biddulph, a famous author. He signed our books and now we can't wait to read them.
Transition
It was lovely to visit Brooksbank Secondary School today as part of the year 7 transition program. We have been meeting up with previous All Saints' pupils to support their move to high school.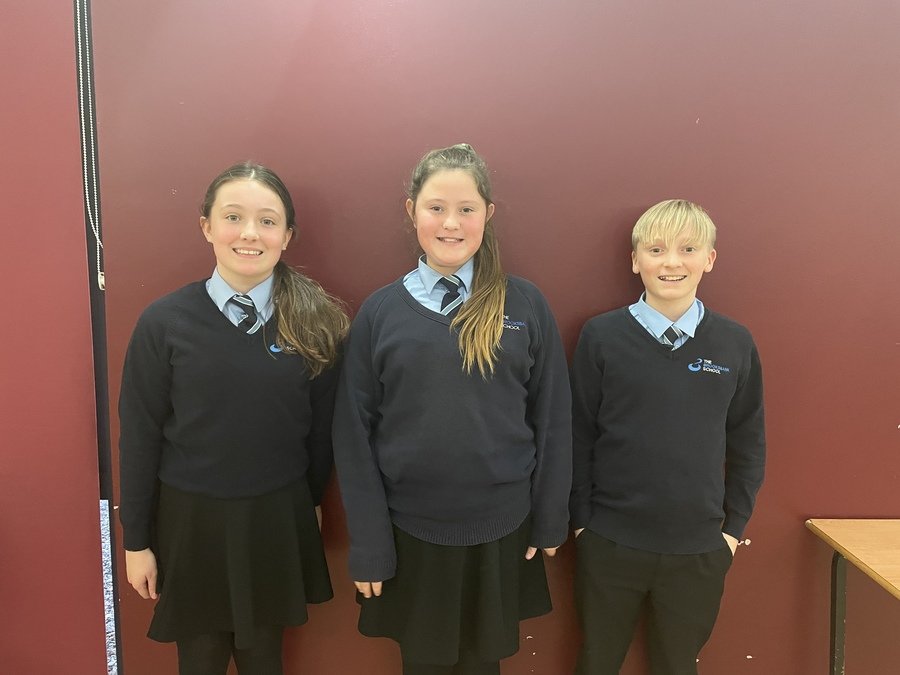 Design and Technology - Year 2
Year 2 have had a fabulous experience today with a visit from a designer from Artworks.
As part of their Geography, Wonderful World and Design and Technology, Structures focus they have been learning about architecture and structures around the world. Today was bridges!
Today, Yorkshire Water delivered an assembly about how to stay safe around open water. We learned about different types of open water - rivers, reservoirs, canals and coastal water. Here is an important rule to remember when you are near open water -
Stay
Away
From the
Edge
"You can't swim in reservoirs because the force will pull you down into the bottom." Great safety advice Will!
If you would like to learn more about Water Safety please click on the link below -
Yorkshire Water - Water Safety
Speak Out! Stay Safe!
We have been thinking about who we can talk to if we have any worries. We used the NSPCC 'Speak out! Shout out!' campaign to identify our trusted grown-ups in school and at home. We also learned the phone number for Childline and explored the 'Buddy Zone' on Childline's website. The link for Childline is below -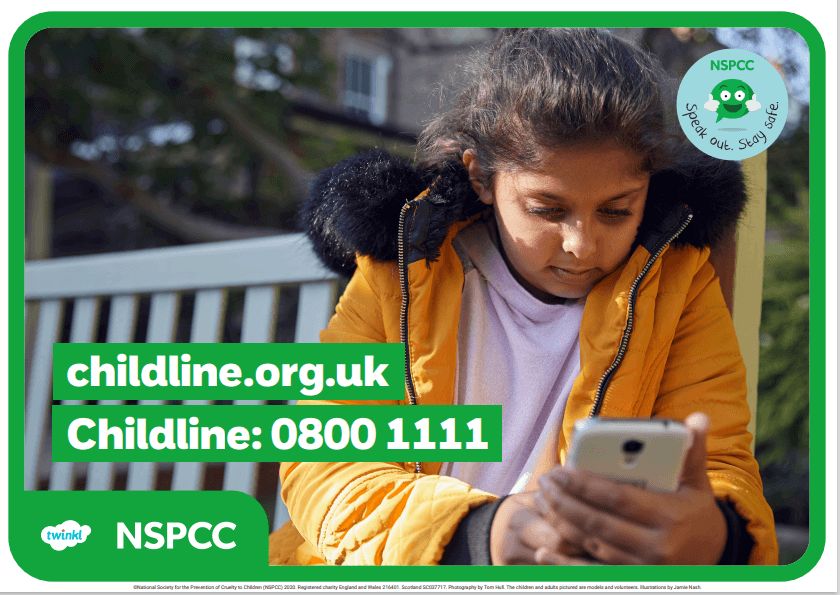 We created our Happy Places on the Buddy Zone.
Here are some drawings of our trusted grown-ups at school and home.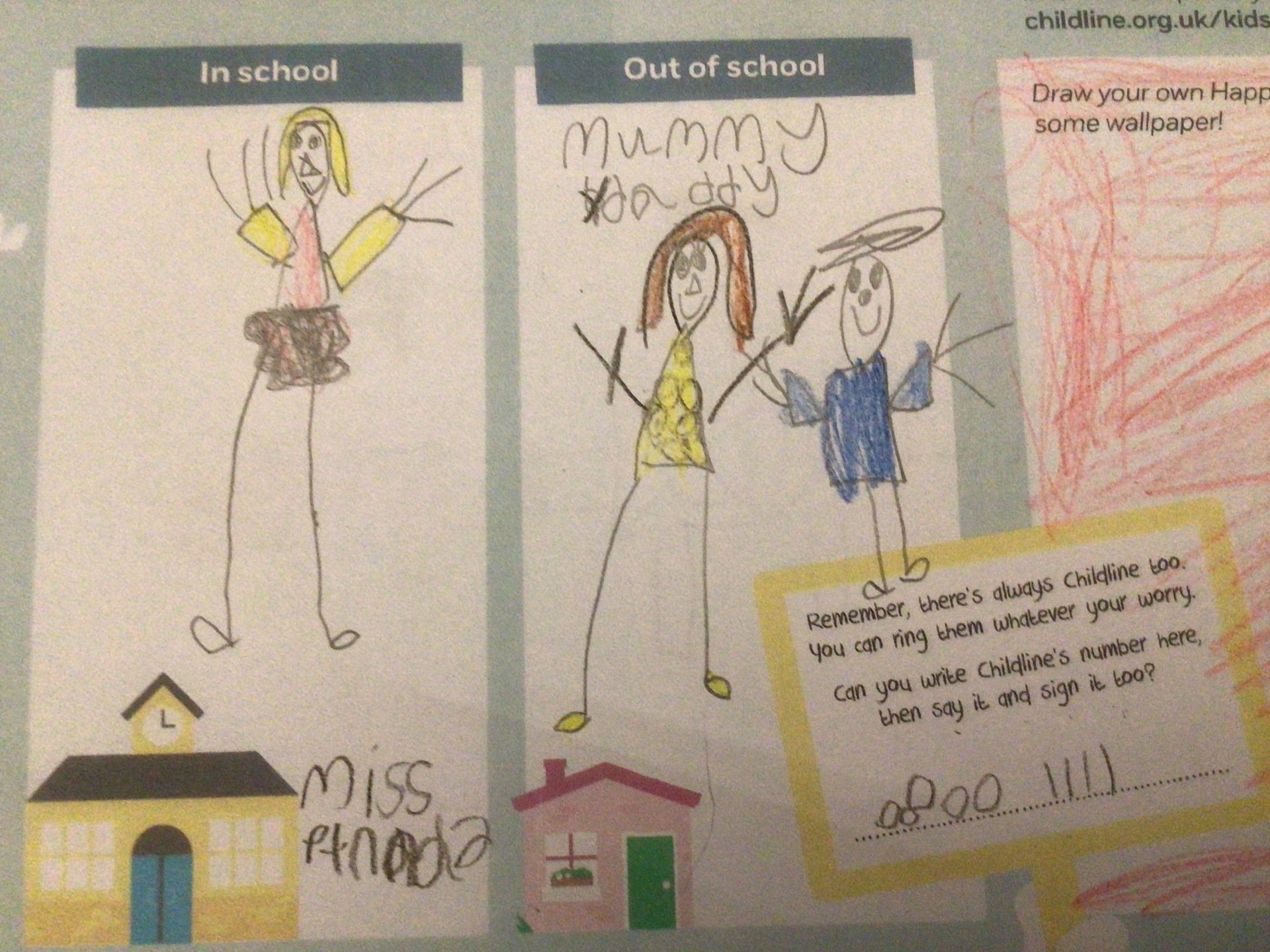 Theatre Visit
We welcomed Skylar's Missing Note into school which is an innovative and impactful education project from Leeds International Piano Competition and Manic Chord Theatre which introduces children to the world of music through live performance. Our reception and key stage 1 children really enjoyed it. They also completed an active workshop.
ASGT 2021
What a great showcase of the talent we have at All Saints'. We made this possible virtually and safely within school to allow our children to shine. The finalists demonstrated all our core values along with the compassion and support from the whole school. Well done to our winners and thank you to everyone who took part and joined in via zoom.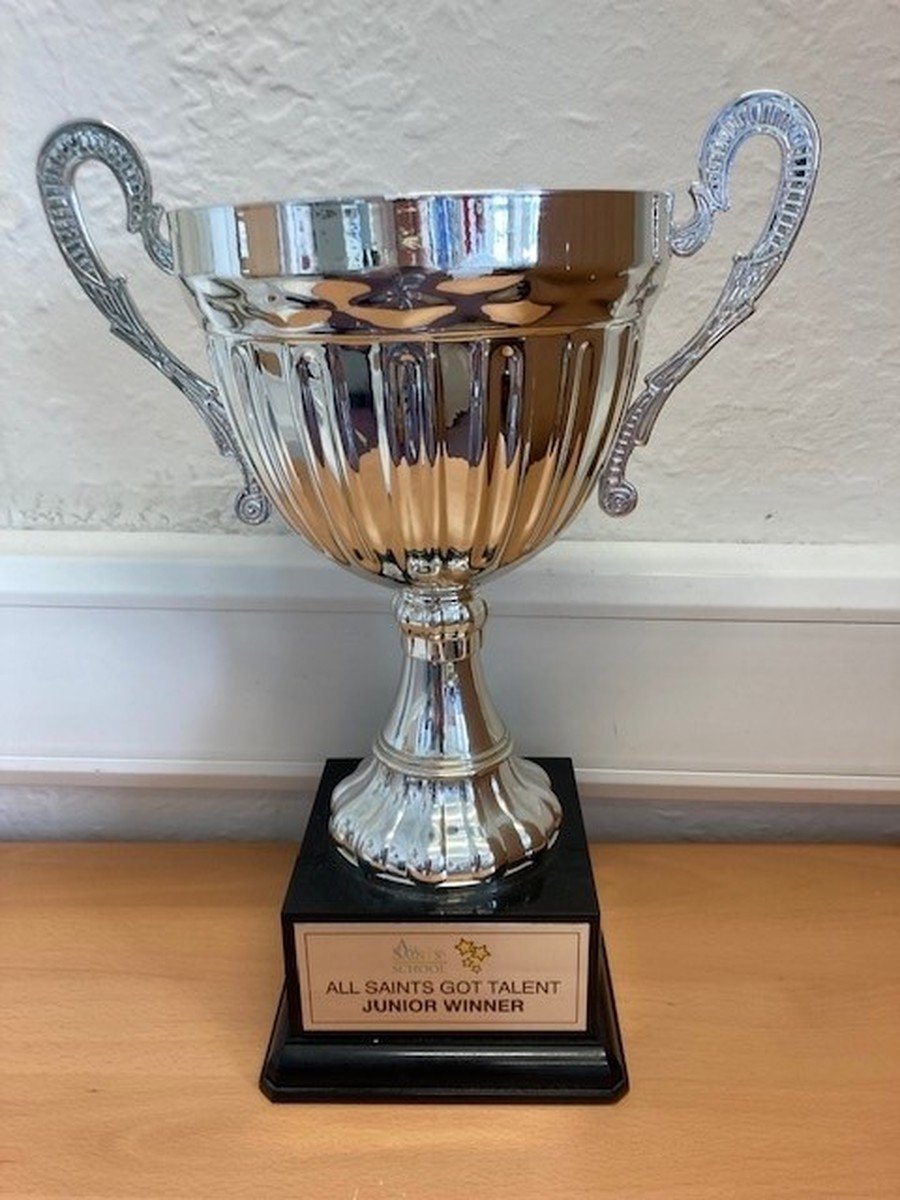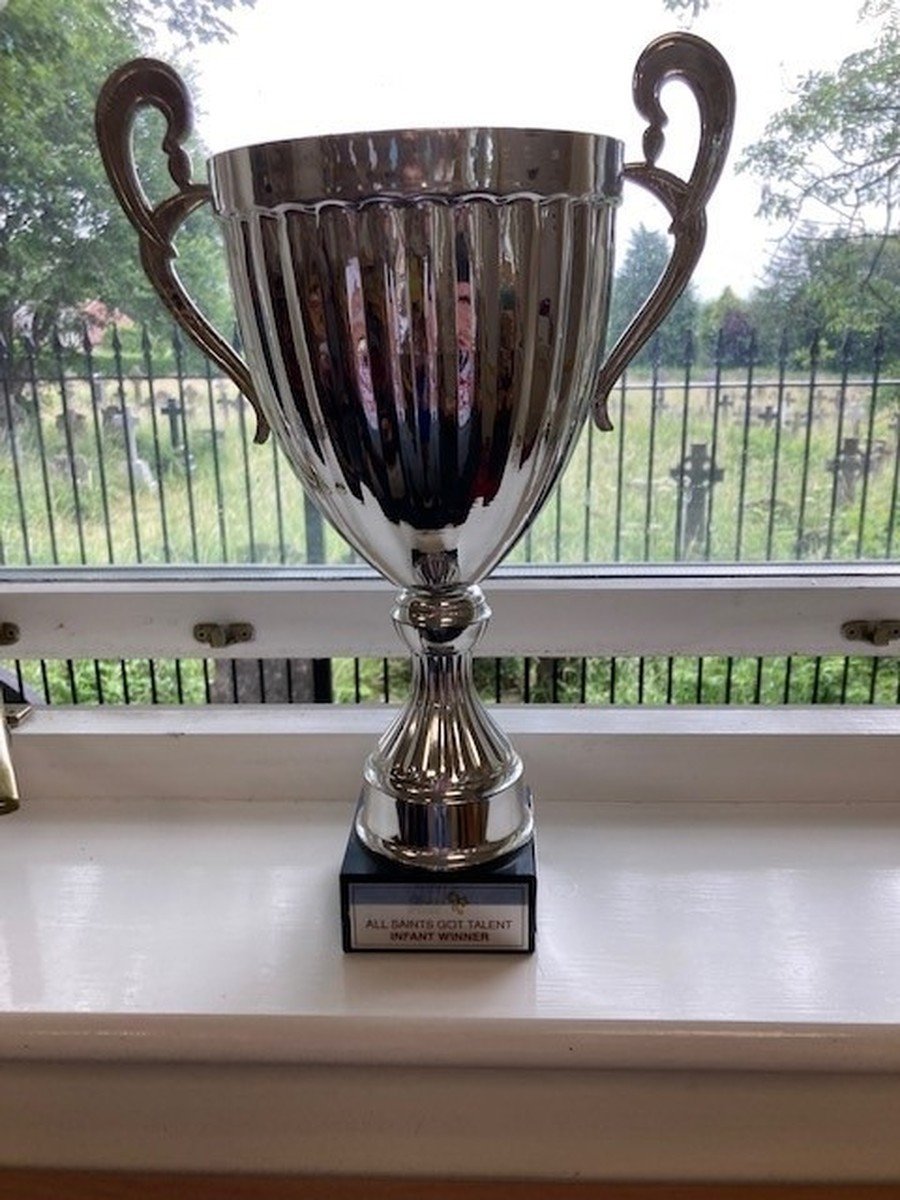 The Big Ask
All of our children this week have taken part in The Big Ask Survey. This is the largest ever survey of children and young people in England. They will use what we tell them to show the government what we think, and what children need to live happier lives.
The results from this survey will help Rachel de Souza (Children's Commissioner) identify the barriers preventing children from reaching their potential, put forward solutions and set ambitious goals for the country to achieve.
As a forward facing school we are pleased to be involved in helping put children and young people at the heart of the country's plans to rebuild for the future.
Skircoat Green Allotment
In Year 3, our current Science topic is plants. On Monday, we took a walk to the Skircoat Green allotments to see lots of different fruits and vegetables that had been planted.
Mrs Shire (our Chair of Governors) took us around and gave us lots of information about the allotment. We saw cherry trees, pear trees, rhubarb, potatoes, tomatoes and lots more!
Year 5 trying out our new laptops today. A big thankyou to the PTFA for helping to fund the Ipods for year 6 also.
LGBTQ History Month
During LGBTQ Hisory Month, we shared a variety of storybooks across school. These books highlight just how different and varied families can be whilst simultaneously identifying that it isn't a particular set of people that make a family - LOVE makes a family.
Please see below our school's 'Wall of Love'. Each class had an opportunity to add their thoughts and ideas.
Our KS2 children quoted:
"LGBT week is important because it's an opportunity to celebrate everybody's differences and the things that make them special."
"I think LGBT week is important because people should be able to love whoever they want to and feel accepted."
"LGBT week is important because we can learn about other people's families and that all you need is love to make a family."
Celebrating World Book Day 2022
World book day was such an amazing day! The All-Saints' love for reading radiated through school and our visiting authors Liz Flannagan, Jarvis, and Nikki Young couldn't believe how much we love to read. Our children were shining brightly with the amount of knowledge they had about books. The inaugural potato book character competition had a great take-up and our Junior Leadership Team really struggled to choose the winners. We can't wait to hear which books the children of All Saints' have chosen with their tokens. A huge thank you to the Thoughtful Spot Children's book shop for supporting the day and providing our in-school book shop along with Year 3's used books shop to raise money as courageous advocates for SmartMove. Our masked reader competition was so much fun too! Who on earth was the giraffe?
African Animals
One of year 2's most memorable moments this half term was their visit to Yorkshire Wildlife Park, as part of their Geography unit on Kenya and the range of African animals that live there.
'We got to explore the animals and even heard the lions roaring! Our favourite part was seeing the giraffes because we couldn't believe how tall they were! We also got to visit the safari classroom where we learned about animal habitats, African land snails and millipedes!'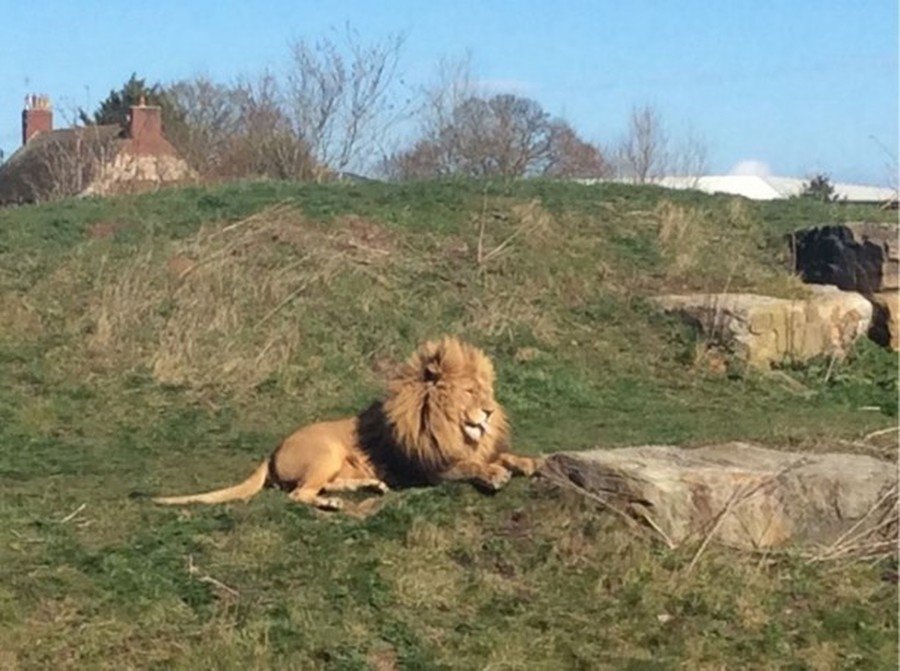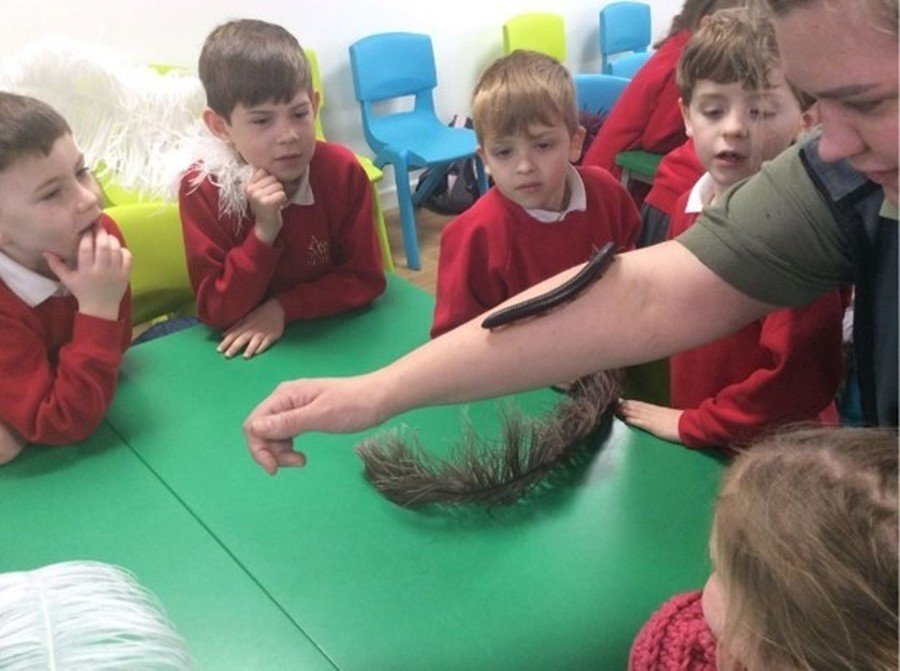 Seeds of Happiness - The Science of Happiness
Our Seeds of Happiness learning is being lived out here at All Saints'. The Seeds of Happiness course helps our children to understand the science of happiness, and how they can positively impact their own happiness levels and those of their friends and family therefore living out our vision of making a difference in the world.
We love Art at All Saints!
We carefully learn our skills, practise these and then have chance to develop our own creations.
Year Six have been studying Picasso's style of artwork and have merged their techniques with knowledge of Ancient Greek myths. For the final stage, they had fun unleashing their creativity and designing their very own Ancient Greek mythical creature in Picasso's style.
Each half term one of our classes delivers a courageous advocate assembly. This is a chance for children to share their voice about their passionate team effort to raise money for a charity which the class have chosen. This half term it is Year 4's turn who delivered an assembly about the WWF (World Wildlife Fund). They talked to the rest of the school about how important it is to look after our world and even suggested they adopt an animal like Year 4 have done using their fundraising money. They have adopted an Amur tiger called.
SAFER INTERNET DAY
8TH FEBRUARY 2022
Christmas worship
Our Christmas worship was magical. Rev Jen delivered a fun filled worship about the 12 hours of Christmas and the teachers even dressed up to help to retell the story of the birth of Jesus!
We shared our All Saints' message of welcoming diversity through our singing. Listen to us below!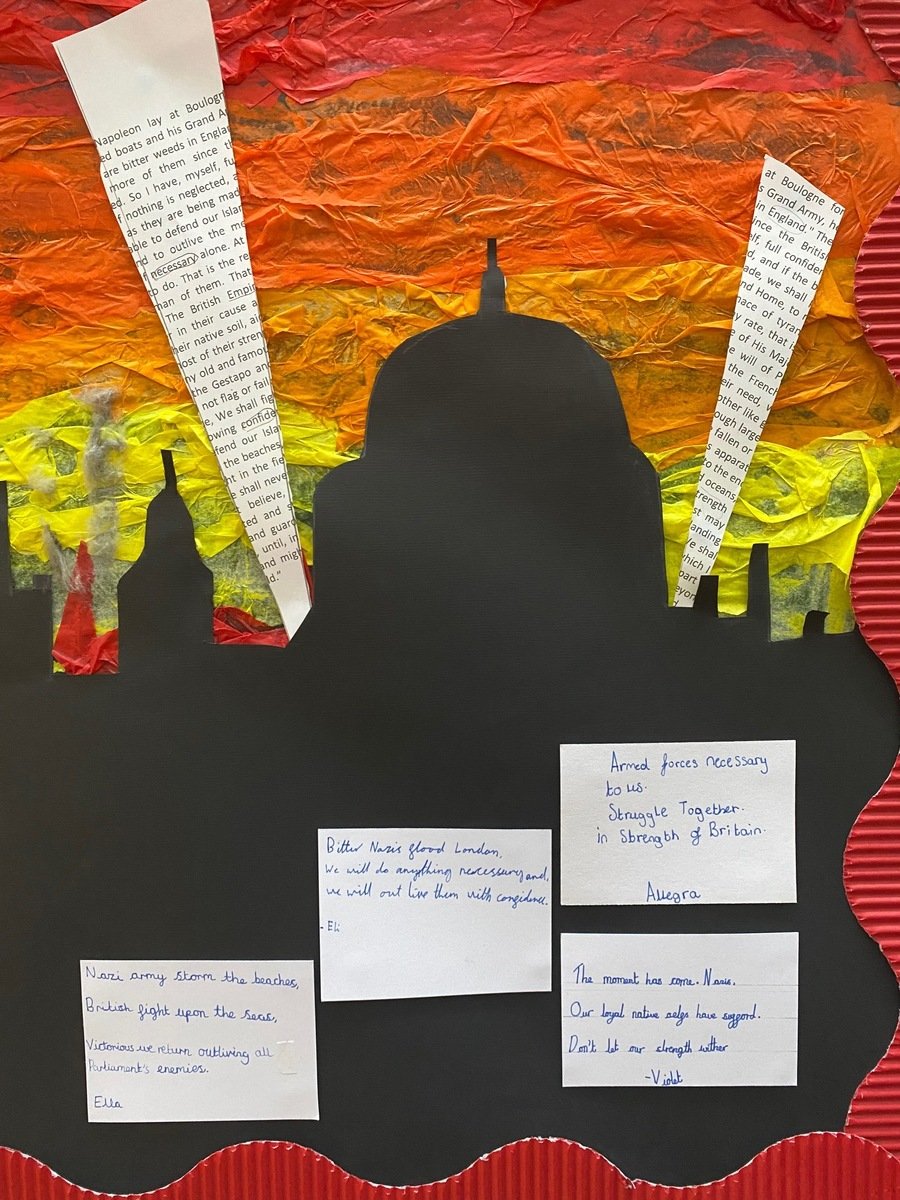 Our Voice Matters Writing Project
Year 6
Mr Winston who is a poet has been working with year 6 to enable them to share their voice through poetry. In our first we created short poems using words from Winston Churchill's speech.
In our second session, as a class, we worked hard to create a 'Blitz-style' poem.
We then sent the completed poem to the man who created the poem format; here is his response-
'Thank you very much for sending this along to me! Please congratulate your students on a job well done. They did a very nice job with the rhythm and the pacing, and I particularly like the section:
Burning our land
Land ablaze
Land armies strike
Striking down
With the transition of the noun form of "land" to the adjective form. Very clever!
Again, please congratulate them on a job well done. You made my day by sending this along!
- Rob Keim '
We've really enjoyed our time with Mr. Winston, and I am sure you will agree that, the poetry produced is fantastic!
Hear some of our children on
Radio 4
Year 6 were visited by Lloyds bank who delivered a session to raise awareness of online fraud and its associated risks, and explore the skills pupils need to stay safe online and protect their personal information, as well as how to report concerns and access help.
We were the first school to pilot this session in 2019.
Hear our children being courageous advocates once again and sharing the message about how to look out for online fraud on Radio 4. Listen here.
You and Yours - Clarks Strike; Cyber Detective Kids; WhatsApp Scam - BBC Sounds
All Saints' Church Visit
Year 3 went to All Saints' church to look for signs and different representations of The Trinity. Rev Jen took us around and spoke to us about different areas of the church and their meaning.
We are so proud of our reception class. They have settled in so quickly to school life and are shining brightly!
World War II Day - Year 6
To celebrate our World War II topic, Year Six have spent the day immersing themselves in activities of the era. We have dressed up as evacuees, participated in an air raid, baked using a wartime recipe, and listened to the chart-topping hits for the years of the war. It has been a very exciting experience and one that has allowed the children to fully involve themselves in active learning opportunities.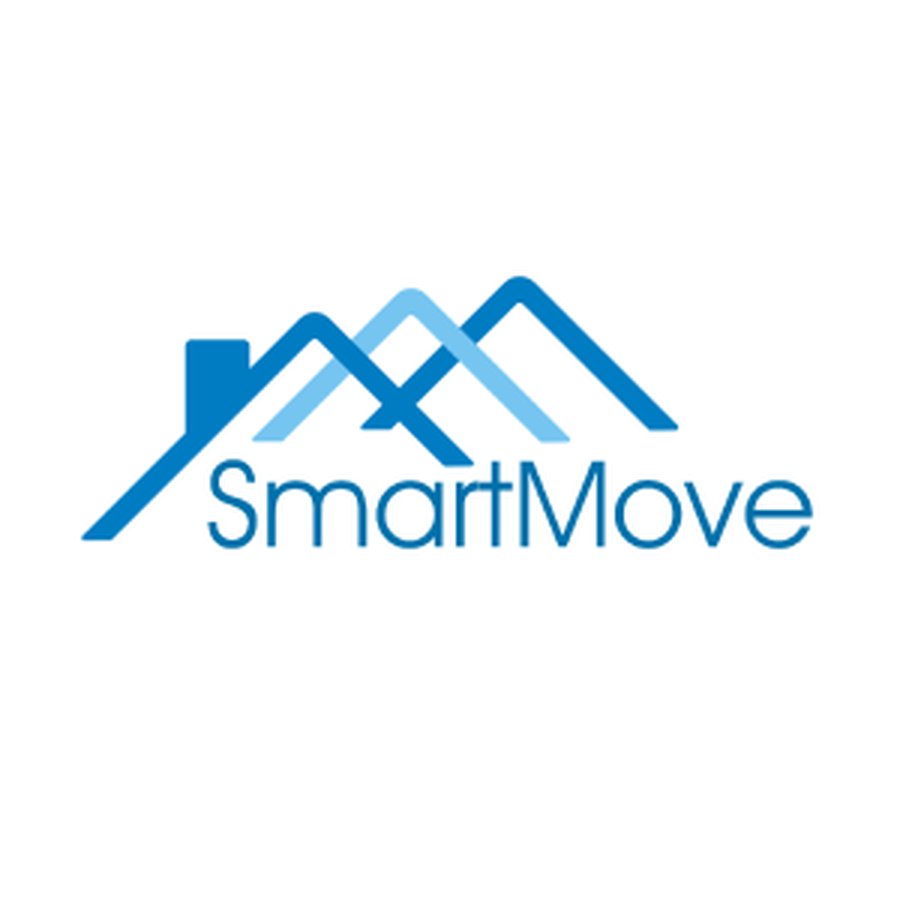 Calderdale SmartMove
One of the ways we are courageous advocates is that we support and share the message of SmartMove along with helping them with our actions. Dom from SmartMove visited school to let us know how our fundraising has helped them to support those in Calderdale who are less fortunate and he asked us to collect donations at harvest time. We loved his poem to encourage us to share a smile. We are big on smiling here at All Saints'.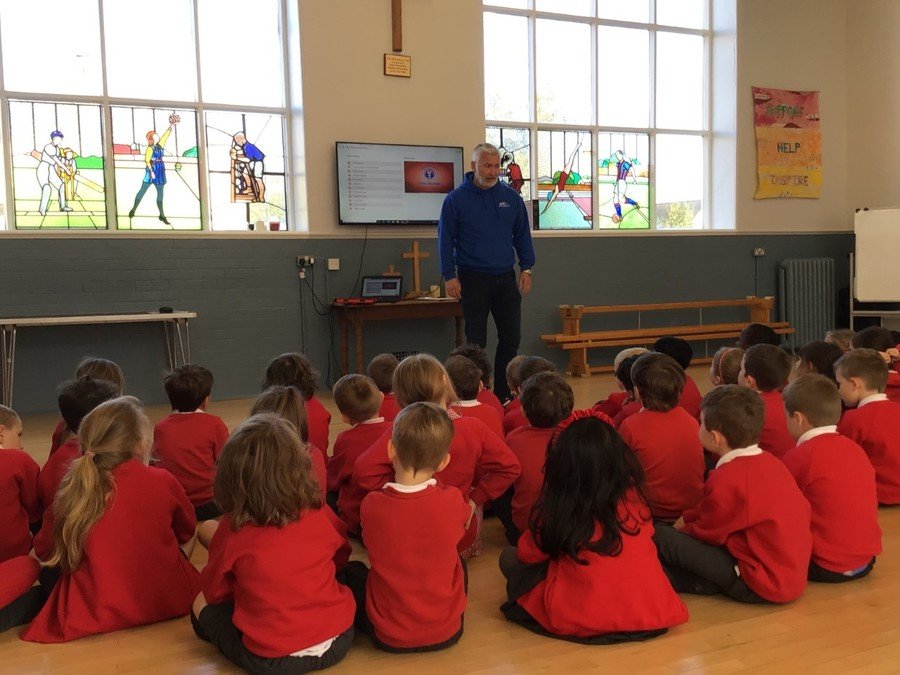 PTA Disco
The Disco was a huge success. DJ Ted was a hit and the party games were a treat. A huge thank you to PTA who raised £491.50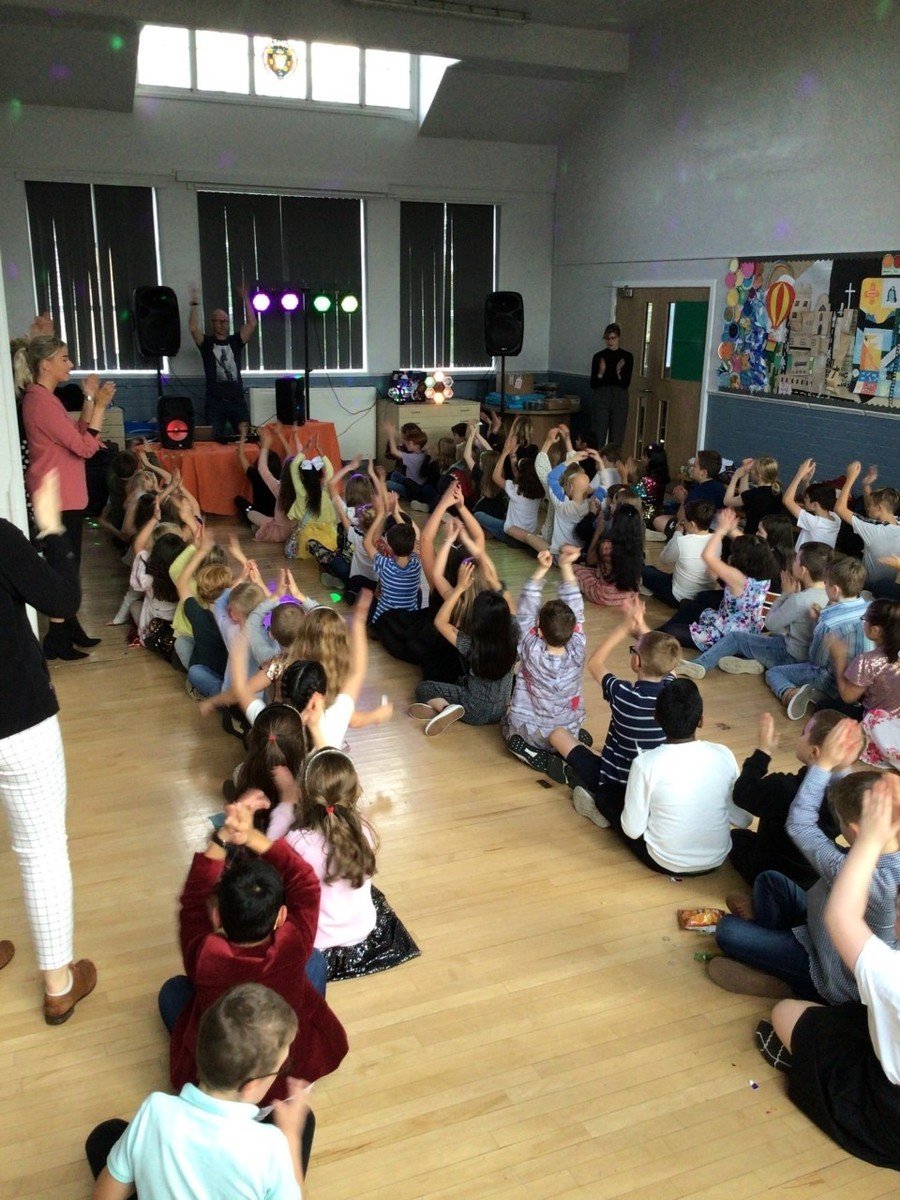 Courageous Advocates
We have supported Alopecia UK several times in school with our fundraising. However, this is an example of how the children from All Saints' use their voices and share what they have learnt to continue this support.outside school. Some of the children in Year 5 decided to walk 20 miles in September to support Alopecia UK month. They raised over £1000. Well done children, you are shining your light for others.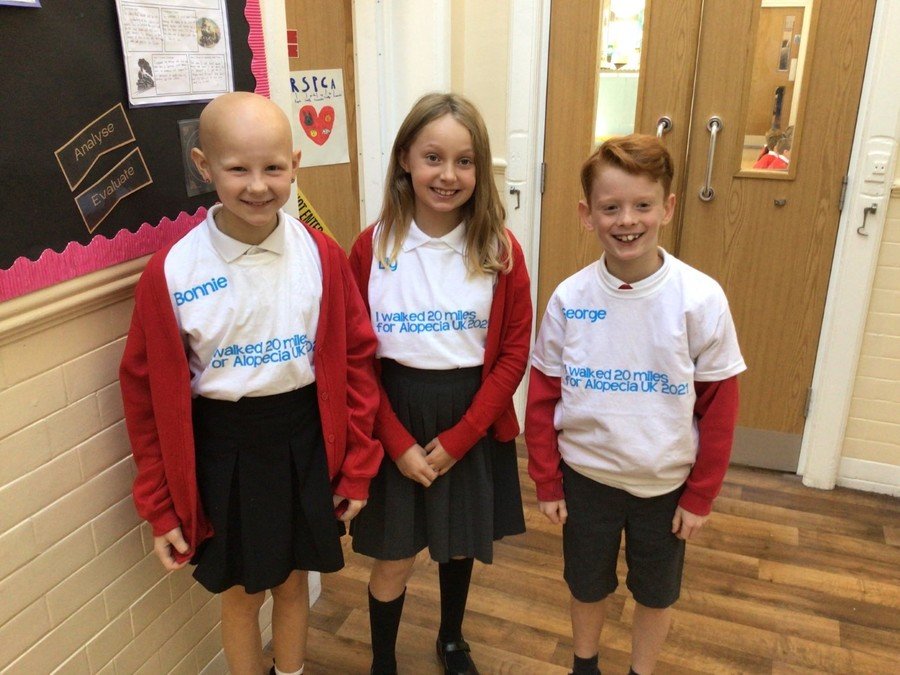 National Reflection Day
On Tuesday 23rd March we joined the nation to mark this significant day. We took part in class worship, a minute silence, where we thought of people who have been affected by the pandemic and reflected upon the year. We also created daffodils to display in our hall window- look out for these over the next few weeks!
Hand to Mouth Lent Journey
Our Year two children have taken part in the Hand to Mouth Spiritual Lent Journey. The children were able to enhance their spiritualty and deepen their thinking around lent. The stations posed questions, stories, discussion and reflection opportunities, they even had the opportunity to taste food, including chocolate!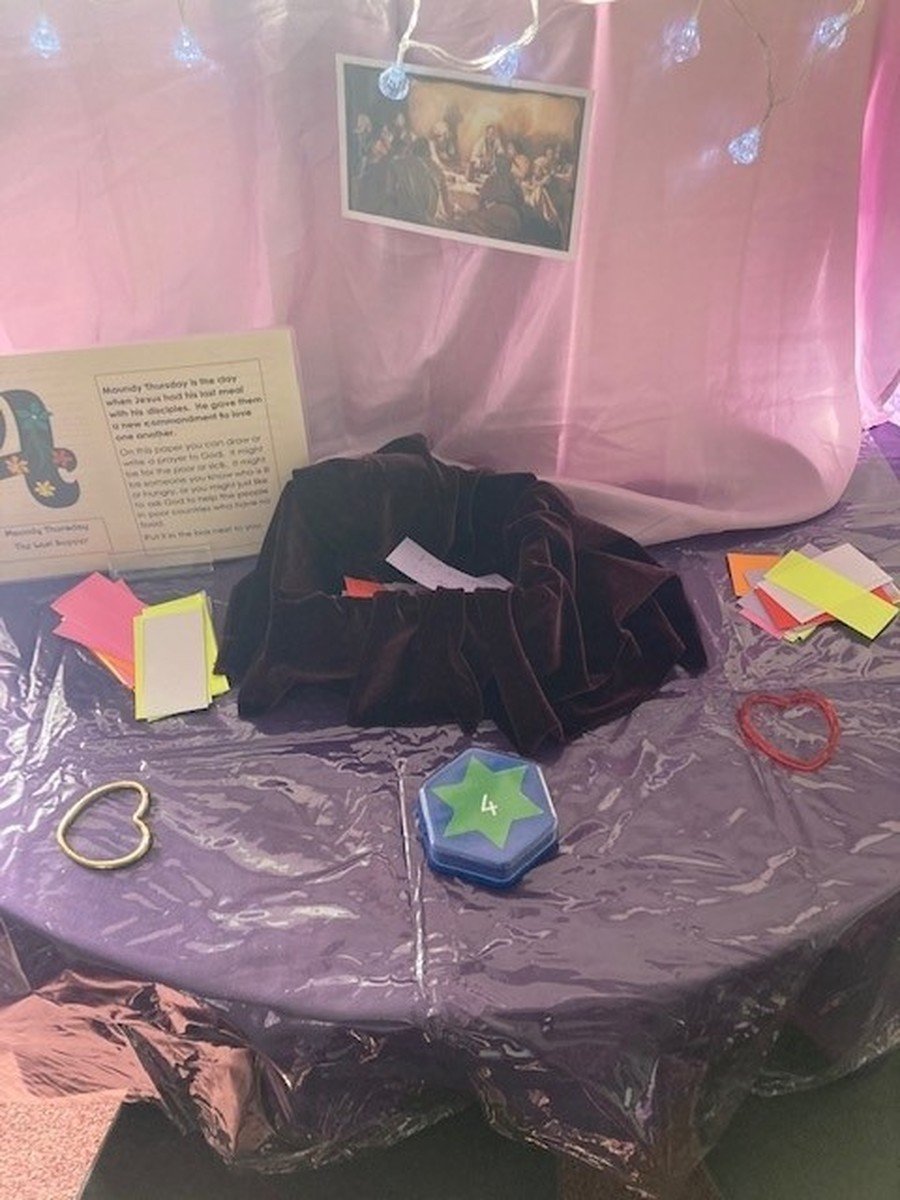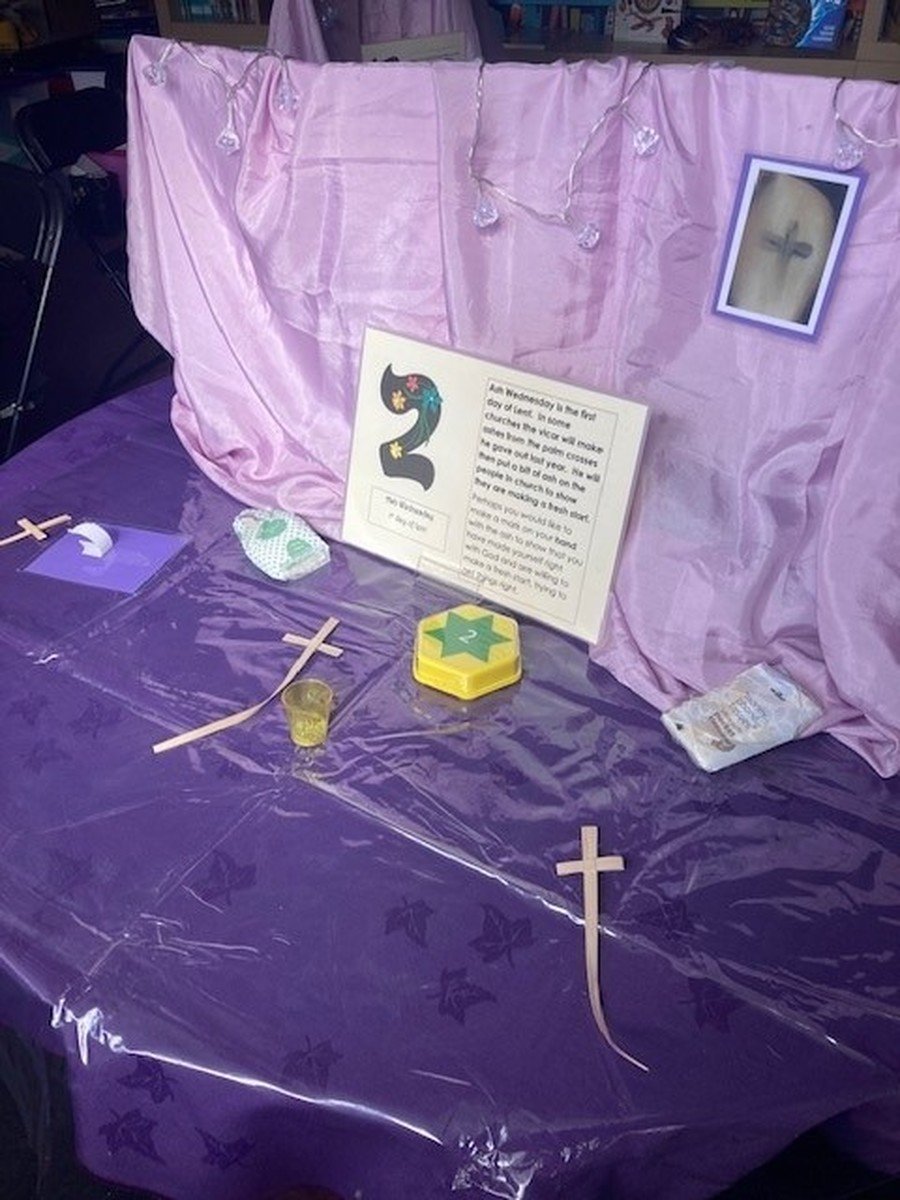 'Big Frieze'
We have created our own whole school 'Big Frieze' which show the 7 parts of the Christian story, from Creation and Fall to Salvation and The Kingdom of God. We learn this story through our RE curriculum as we move through school.
World Book Day
Don't forget to keep the reading going at home!
Lent Journey
This week year 2 and year 5 took part in An Amazing Journey into Lent and Holy Week. The journeys looked at this special time of preparation and reflection for Christians. The children worked in pairs or alone to take a whistle-stop tour through each of the special days in lent, tasting pancakes, learning about the last supper, thinking how Jesus was in pain, and looking at his special garden and much more. Each task allowed children to reflect and pray if they wished. Hand to Mouth work regularly with our school, enabling children to explore Christianity and reflect on their own spiritual journey.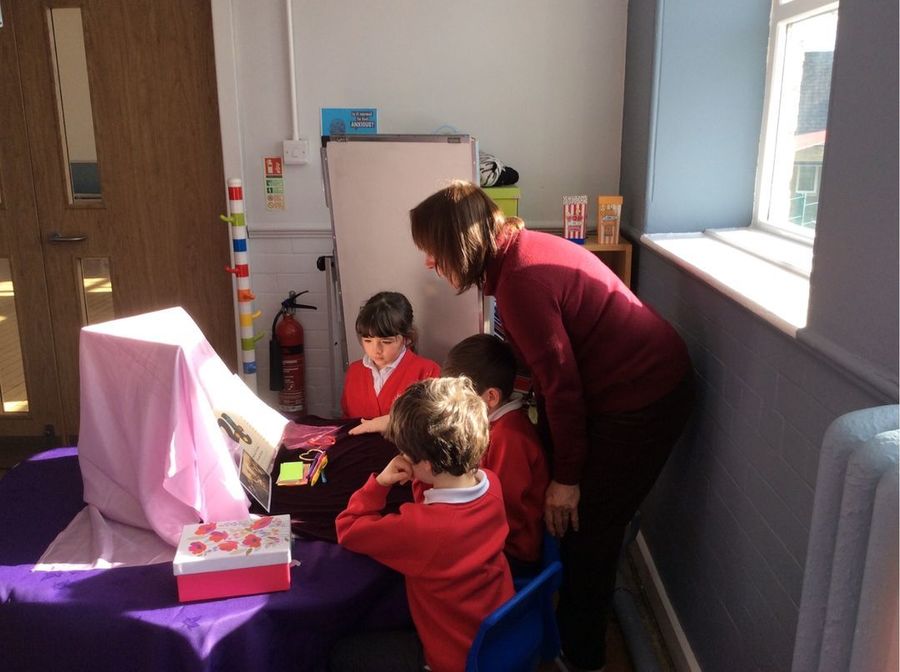 Daily Mile
We have started to complete the Daily Mile! Every child in school goes out each day in the fresh air to (run or jog at their own pace for 15 minutes). It is not competitive though some will compete and that is fine. Most children will average a mile in the 15 minutes, with some doing more and some doing less. It is not PE, sport or cross-country but physical activity in a social setting which is aimed at improving the children's physical, social, emotional and mental health, and well-being. The children run in their ordinary school clothes. It can help children to focus and concentrate in the classroom and raise their attainment. And most importantly, the children really enjoy it.
VICTORIANS!
As part of the Year 1 History topic 'Victorians' they experienced the life of a Victorian school child. Firstly, Miss Paige taught them about the 3 R's; Reading, Writing and Arithmetic. Then, they got to play with real Victorian toys! Finally, we practised our cursive handwriting by using a fountain pen. It was very hard!
Information
Question? Query?
In the first instance, please speak to our School Office, who will be happy to help.
01422 367140
Latest All Saints' School Calendar Events
Year 6 Bikeability

24

May

2022

12:00 am - 1:00 am
Open the Book

25

May

2022

9:00 am - 10:00 am
Open classroom

26

May

2022

2:30 pm - 3:00 pm
'Break the Rules' Day - Jubilee themed

27

May

2022
Jubilee Afternoon Tea

27

May

2022

2:30 pm - 3:30 pm @ Church Garden and Playground
Our Fabulous Choir
The choir sung their hearts out in the centre of Skircoat Green. The Christmas Carols they sang made their audience feel really festive.
'What a perfect start to Christmas.'
They are looking forward to their next performance with an audience!
Listen to us here!
All Saints' CE Primary School
Dudwell Lane, Halifax, West Yorkshire HX3 0SD
01422367140
admin@allsaints.calderdale.sch.uk